A messsage from King Bailey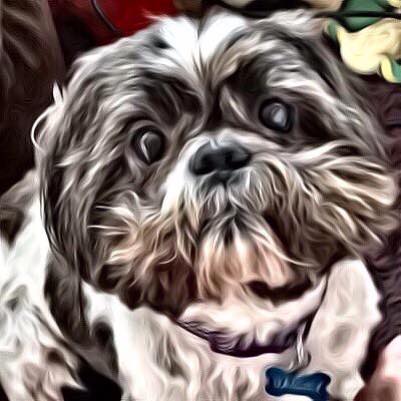 Pull up a rainbow beanbag, take the weight off your paws and listen whilst I tell you about the first book, Stanley's Discovery.

I am King Bailey and I rule equally with my wife, Queen Coffee of Tzus. As Chief Scout, Coffee found Vanilla Tzu Stanley in his Edinburgh garden and invited him through to Tzu Kingdom. She and her team look out all over the globe to find Shih Tzu dogs and invite them in to our world. They see them from spyholes in Scout Tower, the observatory above the Welcome Room you're in now.
We access it through barking loud and firm at fairy doors, shrinking down in size as we go through and burp a little when we land! It's great here, you'll see the Welcomers on the desk there keeping an eye on the Fairy Door Wall, there's a café, the magical party room and so much more. We also have the Comforter Wing where we look after tzus that we have rescued. It's becoming ever so busy these days - too busy we feel - as we work to defeat the human puppy farmers and the neglectful humans who do not care.
You see, when we were given Tzu Kingdom by the fairies, we promised them a few things: that we would keep it nice, and we do, that we would elect the wisest tzu as our King or Queen and that we would use it for good. In recent years, that's been about rescuing "Tzus Less Fortunate" and we have found friends in the most terrible of circumstances. It breaks my heart.
Serious tzu stuff aside, we have a wonderful time here with our friends: the parties are amazing and we love to play together. We have some amazing dances: the Paw Stomp is everyone's favourite at the moment because it's fast and you can dance it with a friend or a partner. I love dancing the romantic Shih Tzu Shuffle with Coffee and the Furry Tail Fandango is tricky to learn but also fun!
I know you will love our band Tzu Aroo too. So, come on in and join us in our first book!
KB