Vera had grown since the tzus had last seen her, she wouldn't be fully grown until she was 15 but still, she was big compared to them and everyone laughed and cheered as she picked up her little friends in her trunk and raised them above her head!
Maisie, Paddy and Stan screamed playfully as she bounced them up and down.
"I'm gonna be sick…" shouted Paddy.
"Untrunk us Vera…" laughed Maisie, waving to Beth on the ground, desperate to be picked up by an elephant trunk like her big sister.
She placed the three of them carefully on the floor and Stan hugged her tight around her knee.
"I can't believe you're actually here," he said, stepping back and looking in to her eyes. Maybe the whole Angel King Wolfgang thing had been a daydream but he knew, in his heart, that it really was down to him – and him alone – that Vera was rescued last year. He had spotted her and convinced Santa Paws to set down and look for the grey creature he saw in the war-torn abandoned zoo. Without him, she would have been captured by the bad men they had heard.
"Stan, Stan," Vera hugged him back, sensing he was upset, "I love it at Santa Paws Land. Embry looks after me as if I was her own puppyphant and I get fabulous food. My little outbuilding is so warm and cosy and…I have a job! I am the Christmas Elephant and I help Pixie and every fur with lifting and packing. That's why I am here today, I am going to help you load the presents on to the sleigh!"
"Oh Vera, I am so proud! Well, the gifts are all stacked up in the Party Room. We should get to work! I have done a spread and there are jam sandwiches and iced buns – you'll like them!"
Maisie coughed to get everyone's attention.
"Come on pals. The sooner we get packing, the sooner we can all enjoy the spread and I have to show Santa Paws around Tzu Library first!"
She skipped inside and everyone followed.
Coffee looked on, little Maisie was amazing.
"See you in a bit Santa Paws Shay. Enjoy your private dinner," Binky said as he followed the tzus to collect the presents.
"Oh, Binky, I forgot to brief you on something…" Shay yelled, running after him.
Pixie turned to the royal couple, she had just been to the sleigh and returned wheeling a crate of pretty gifts decorated with ribbons.
"These are from Embry from every fur at Santa Paws Land, plenty of fun things to share."
"Now, you two must visit in the spring. Shay's time as Santa is coming to its natural end and he so wants to entertain you two before he retires and becomes 'Santa Paws Emeritus'. He's asked Embry to redecorate the guest wing for you and it's going to look gorgeous. He wants to show you around the ice palace and show you all he's done, then he said, ice skating, s'mores on his balcony and a flight!"
Coffee looked at Bailey. She didn't ask, but her eyes lowered. Santa Paws Land was a winter wonderland and, being Canadian, she loved the snow and so wanted to see the incredible ice palace but there was always so much to do in Tzu Kingdom. Bailey knew just what to do, once again.
"We would love to come Pixie, please tell Shay and Embry to book us in for the first weekend in April!"
Coffee squealed and kissed her husband, then hugged Pixie excitedly.
Santa Paws Shay re-joined them to the news that he would soon have visitors.
"Oh, how marvellous. Roh Roh Roh, we had better get some heated blankets and warm mittens in for you Bailey, you're not one for the cold!" he laughed. He really wasn't! Coffee was perfectly at home running through snow, he preferred to watch a winter wonderland from inside, or on the TV.
"Well, I think it's dinner time, via Tzu Library," Coffee announced. Pixie scampered off to help with the presents and the three rulers of two important dog worlds went to enjoy a sublime dinner - not as heads of state, but as friends, paws reaching across lands, all working and striving for a better world.
Shay flopped in to a pile of beanbags and laid his paws on his tummy.
"Well, that's me set up for tomorrow evening!" he chortled in his gruff, deep bark.
"You can't beat a Tzu Kingdom dinner," said Bailey as he passed him a tumbler of his aged malt, "how was the Christmas pudding, it's been maturing for months!"
"Delicious," Shay informed his old friends, "and thank you for the tour. The library, especially the Christmas section, and the gallery are amazing, Scout Tower is a triumph and I have never felt such warmth as I felt in the Comforter Wing. You say no one but a rescuer ever gets in to the Rescuer Den?"
"Nope," replied Bailey, and I concluded even before I was King that it was probably best left that way. Goodness knows Coffee had tried to get in many times over the years!"
Coffee sniggered, sipped her vodkatini and then pricked up her ears, to everyone's delight. "Can I hear singing? The piano?"
She could. In the party room the presents were all stacked on the sleigh and the spread was being consumed whilst Brickie played Christmas music so his friends could enjoy a sing song.
"Oh, Shay, Bailey, let's go and join in!"
Queen Coffee loved to sing and had a stunning choral bark. They ran after her and watched lovingly as she ran to join everyone at the piano. Vera was watching from the patio, her trunk through the doors, an elephant almost in the room and, by the enormous tree Stanley, with Beth in his paws (happy after a trunk lift from Vera), and Maisie were thanking everyone for their help.
"Jingle bells, jingle bells
Jingle all the way
Oh what fun it is to ride
In a six-dog open sleigh
Dashing through the snow
In a six-dog open sleigh
Through the stars we go
Laughing all the way.
HO HO HO
Bells on tzu-tail ring
Making spirits bright
What fun it is to ride and sing
A sleighing song tonight.
OH Jingle bells, jingle bells
Jingle all the way
Oh what fun it is to ride
In a six-dog open sleigh."
They gasped as Coffee joined them in the last chorus and began to sing.
Mac passed her the roving mike and winked at Brickie, they knew she would arrive and want to sing along. Shay lifted her up on to the piano and she began her favourite Christmas number.
"Sleigh dogs sing, are you listening?
On scout tower, snow is glistening
A beautiful sight
We're happy tonight
Walking in Tzu Kingdom Wonderland
Gone away is the bluebird
Here to stay is a new bird
He sings a love song
As we go along
Walking in Tzu Kingdom Wonderland
After cake, we'll conspire
As we snuggle by the fire
To face unafraid
Rescue plans that we've made
Walking in Tzu Kingdom Wonderland
When it snows, Coffee loves it
Bailey watches, wrapped in blankets
Furs frolic and play, the Team Christmas way
Walking in Tzu Kingdom wonderland".
After a lovely evening, it was time for Team Christmas to depart.
They all said their goodbyes, with tummies full of a little too much delicious, festive food and drink. As they stepped outside, it had just started to snow and it sparkled brightly as their paw prints appeared all around.
Vera stroked her little friends with her trunk. It had been good for them to be together again for the evening and it had been a lovely surprise too.
Stan saved his hug until last and he giggled when Vera picked him up again. She held him close and whispered in his ear.
"Stan well, I wonder if you would give something some thought?"
He nodded.
"Thing is, Santa Paws Shay is going to retire soon and, well, I am an elephant as you know and I could live 50, 60 years or more and, during my time, I will serve many a Santa Paws."
Stanley nodded again, he was sad about this but he knew the day would come. It was hard work being Santa and ten years was enough. Shay deserved a happy retirement too as he reached his golden years.
"It's just, maybe you could be Santa Paws next? You would be perfect and you have the experience and, well, I would love to be your puppyphant!"
"No, me? I am so little, I couldn't be big and commanding like Shay and I don't have the skills!"
"Smaller dogs than you have been Santa Paws and well, Shay would teach you all you needed to know. Just say you'll think about it?"
Stan laughed. "OK, of course I will Vera my friend! Love you to the moon!"
He landed back on the floor and Vera picked up Pixie who was flying home with her. They waved as they ascended in to the stars and back to the palace.
Binky high pawed his friends, promising to pop by soon and jumped up to the sleigh ready for Santa Paws.
The royal party came out on to the patio.
"We will see you in the spring Shay, please be careful tomorrow night and spread love throughout the world as you always do."
"I will Bailey and I hope that the world will be more fur and more like Tzu Kingdom one day."
He kissed Coffee's paw.
"Take care of this lovely lady Bailey, Santa's always watching!" He winked.
They laughed, shook paws and waved as Santa Paws Shay walked happily to his sleigh, with tzus clapping as he went. He stopped briefly to hug Paddy, Maisie and Stanley and then, with a little sprinkle of Christmas magic, he was gone.
Stanley changed back in to his clean fresh coat and pulled on his boots.
He wished Paddy and Phoebe a Merry Christmas. They would all be back tomorrow for the Christmas Eve party and by Christmas Day they would be ready for a good long snooze! Paddy would be extremely tired as, like every Christmas since he had his family, he would spend the night by the oven, watching the turkey cook, barely blinking.
Stanley took Maisie back to her fairy door and watched as she ran down the garden to join Beth who had been taken home to bed by Mac some time ago before she got tired and tearful, she was still just a pup.
He hurried back through Maisie's door, through the corridor in to and immediately out of the Welcome Room and back in to his garden. He burped loudly and when the noise stopped echoing, he heard Mama calling him.
"Stanley…Stanners…there you are darling, you're fascinated with that old tree!"
He jumped up in to her arms and kissed her face. He loved her so much.
"Come on darling, we have to get going, Granny is expecting us, Dad's just loaded up the car. There's pie at Granny's house!"
Stanley felt a bit green, he didn't think he could possibly eat another thing but he would try.
They climbed up the steps together and Stanley paused to look up at Edinburgh Castle. Dad stepped through the patio doors and he picked him up and kissed him, with another kiss from Mama following swiftly. He loved his home as much as he loved Tzu Kingdom. His daydream about King Wolfgang visiting him as an angel had made him appreciate everything he had and he smiled a happy smile. For a second, he wondered how Mama, Dad and Granny would cope without him. What would they even have to talk about? He shuddered, there had been enough of those types of thoughts today. He wasn't going anywhere. 'It's a wonderful life,' he sighed, with a happy head.
Mama smiled back and then looked curiously at his coat.
"What's this in your pocket Stan? Wow, what sort of bird did this come off? It's huge and it sparkles in the light, look, it's so pretty." She added it to the Christmas plant arrangement on their dining table as they locked up and headed off for Christmas at Granny's.
But that feather wasn't from a bird and Stanley knew it. It was a wing feather from an Angel King. He looked to the sky and woofed.
"Happy Christmas Wolfy."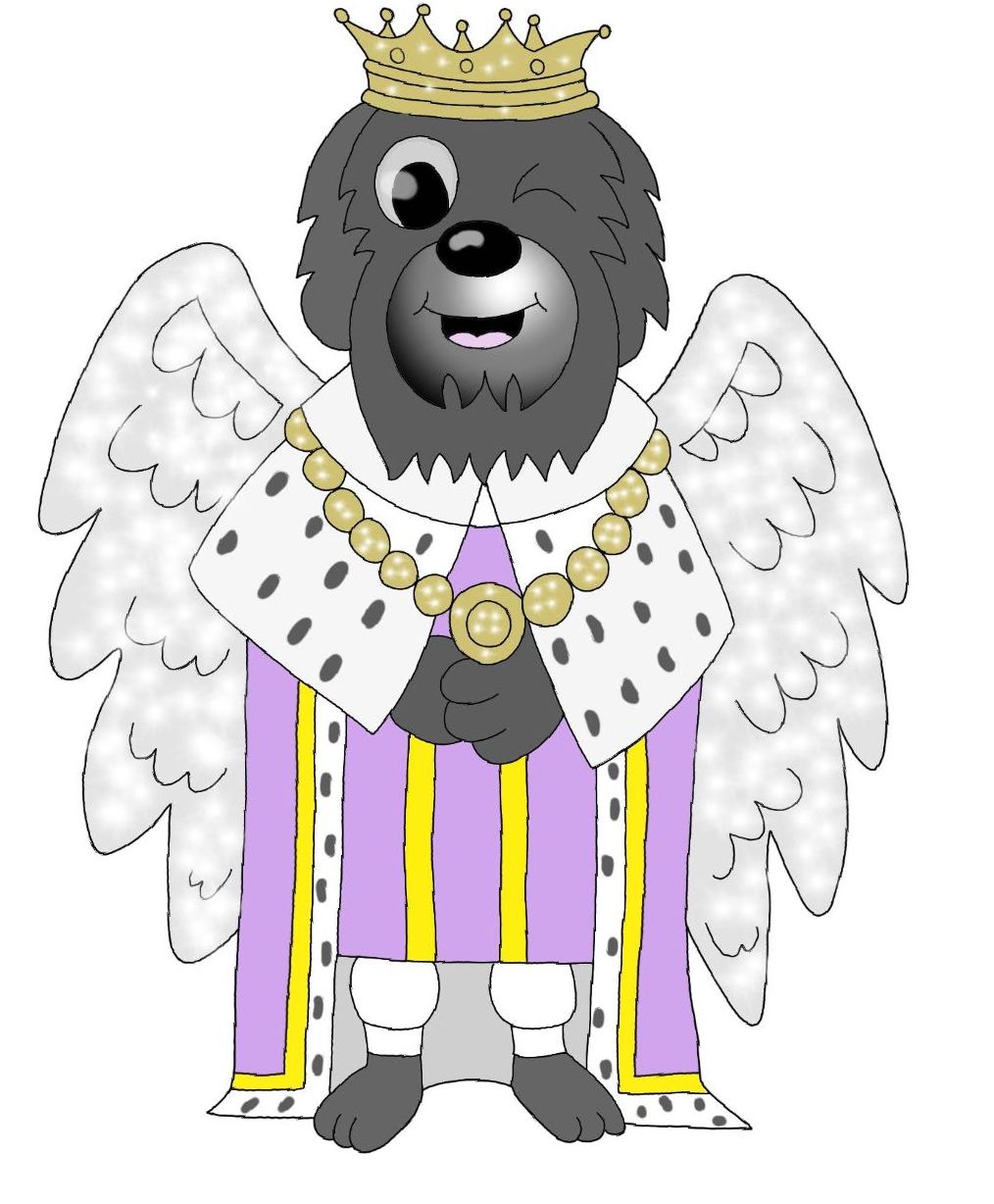 A Furry Christmas & Happy Tzu Year from Tzu Kingdom
Tzu Kingdom: It's A Wonderful Kingdom
Copyright © Karen Chilvers & Gill Eastgate - 2018 First Edition
The authors assert the moral right under the Copyright, Designs and Patents Act1988 to be identified as the authors of this work. All Rights reserved. No part of this publication may be reproduced, stored in a retrieval system or transmitted, in any form or by any means without the prior consent of the authors, nor be otherwise circulated in any form of binding or cover other than that which it is published and without a similar condition being imposed on the subsequent purchaser.