Santa Bailey is back!
Posted on
Pleased to announce that "Santa Bailey" is available to download once more!
Can the Tzus avoid a "dogastrophe" when Santa Paws crash lands at the Christmas Eve party and is grounded by Queen Coffee?
How do the presents get to the right dogs - will Maisie save the day?

Will Mitch return to Tzu Kingdom after his self-enforced exile?

What will we find out about King Bailey and Queen Coffee's elopement when we stop at Hotel Battenberg in Paris?

Will the shelter dogs get anything from Santa this year?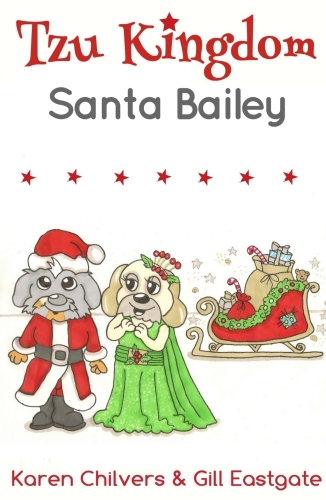 It's free on Kindle Unlimited and available to buy at just £1.99. It should shortly be available on Google Play and other sites.
We wrote this short story to tell fans a little more about Tzu Kingdom and how it works. All the action takes place over night on Christmas Eve 2015 and gives the opportunity once again for them to be brave as lions.
We learn about sharing and charity, feeling the fear and doing it anyhow, how misunderstandings occur between friends, teamwork and step-families.
In this age of consumerism, we hope that everyone gets something to think about as we approach the festive season. Happy Christmas!