The Harry Potter actor, a cute dog, a nasty accident & Tzu Kingdom Book One...
Posted on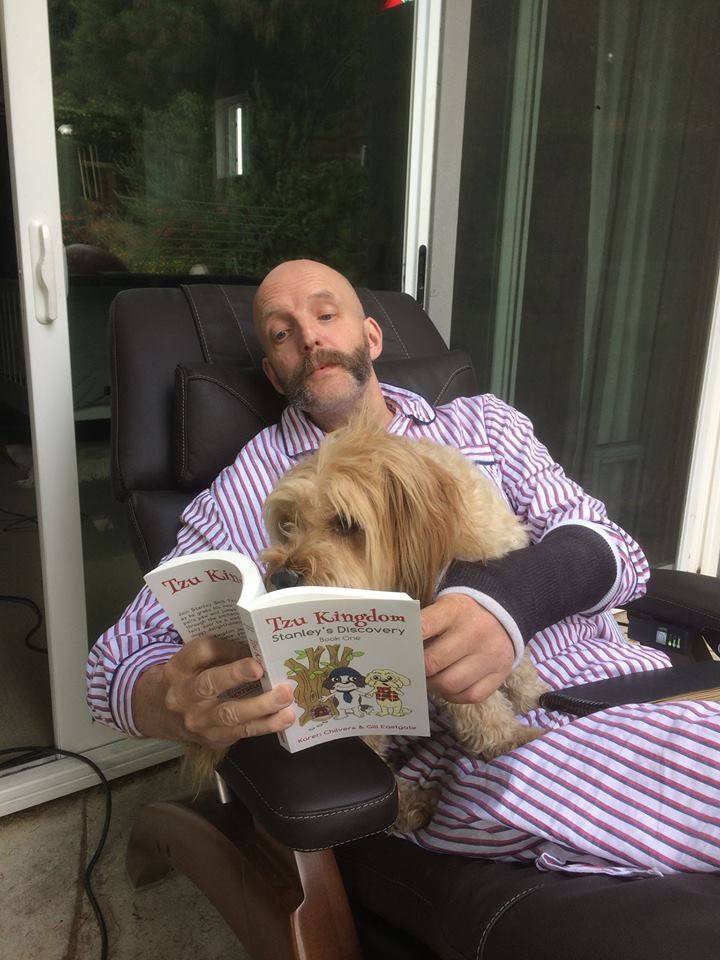 If you're a fan of Harry Potter, then you will recognised the chap above as Jim Tavare, the actor who played Tom the Inn Keeper in "Harry Potter and the Prisoner of Azkaban".
Now, here he is reading "Tzu Kingdom: Stanley's Discovery" to his little dog Mr Kippy with his arm in a cast. Well, how did that come about?
Well, back in March, Jim and Mr Kippy were involved in a terrible car accident in Los Angeles. For Jim, it nearly ended his life. It left him with a broken neck, a serious hand infury, broken ribs and punctured lungs. Mr Tippy was ok, but no doubt traumatised.
Now, this came to the attention of Bailey's mum Karen a month or so later when, against all the odds, Jim recovered and there was a wonderful news item...
Co-author Karen remembered Jim. She had worked with him 20 years ago when she booked him for a customer event when he was doing his stand-up routine with his double bass. She had always remembered what a jolly nice man he was and her ears had pricked up whenever she heard his name, especially for Harry Potter for she is a big fan.
So, through the wonder of the modern world, Karen sent a message to Jim's wife Laura, explaining she had met Jim back in the last century (!) and asking Laura to wish him well. Then thinking of Mr Kippy, she realised they must love cute little dogs too. Just out of plaster after a major foot operation, she knew exactly what it was like to be housebouond, recovering from surgery and thouht to herself 'I am sure reading a happy, uplifting novella in short chapters would be perfect to aid his recovery'. As we have always said, this isn't just a children's book, it's a book for anyone with an imagination or someone who loves dogs.
So, Karen parcelled up a signed copy of Tzu Kingdom and sent it to Laura and Jim, c/o his agent in Los Angeles, not really expecting to hear anything else.
But she did, just a couple of weeks later! Jim and Laura sent a thank you message and then, the bit that made Karen and Gill very proud of their book, the above picture appeared on Jim's personal Facebook page with the caption:
"Thank you to Karen Chilvers who very kindly sent this book she co-authored for me and Mr Kippy to enjoy. Mr Kippy is engrossed."
This was the picture that Jim used to show his thousands of friends that he was on the mend! The authors were truly touched and honoured.
We are delighted to see that Jim continues to improve and that some great benefit concerts have been held to help him cover his huge medical bill ($40,000 - you can donate here!) We look forward to seeing Jim return to work and we hope, that if our dream comes true and Tzu Kingdom is made in to an animated film that he might consider being the voice of King Bailey with that kingly beard of his!