Tzus on a Train - Part 3
Posted on
So, the final part of Tzus On A Train is here…
Wednesday morning came all too quickly and Stanley was woken by the doorbell ringing. Mama glanced at the clock, it was not even 8am. Stan barked as Mama pulled open the curtains and saw Nanny & Louis waving up at them!
As an excited Stanley ran downstairs Nanny already had the kettle on and was fussing over everyone. Stan loved Nanny, she was everything a nanny should be, just like his own granny he mused as he caught up on the gossip with Louis and a rather bleary eyed Bailey. All the boys went out for a wander in the garden and Louis proudly showed off his purple fairy door.
Sadly, it was soon time to leave, and after a tearful tzu hug to Bailey and Louis, Stan jumped into the front seat of the car and with his fur blowing in the wind they drove towards the station where Bailey's mum dropped Stan and Mama both off.
After about an hour Stan was back at Kings Cross Station. Mama stopped off for a coffee and bought a bacon and egg roll which to be fair, Stanley ate most of. At twenty past eleven Stan found himself standing in front of a giant notice board, with Mama staring up at it,trying to see what platform the 11.30am to Edinburgh train was going to depart from.
Suddenly Stanley heard a voice he hadn't heard before. "Hello, can I touch your dog?". Stanley turned and saw the cutest little girl staring down at him. Stanley smiled, she was lovely. "Of course you can" said Mama. "His name is Stanley"
The little girl bent down and Stanley felt her little soft hand on top of his fluffy head. She was so gentle and kind. He reminded Stan of Fleur, the little girl they had met on one of their many adventures in Tzu Kingdom. Then Stan heard Mama say to the little girl that they had to go and get their train back to Edinburgh. Stan smiled up at the little girl, he knew she was very special.
Stan found himself in between lots of humans and suitcases with wheels on. Stan had to walk rather quickly to keep up with Mama, he sensed there was an air of urgency! They stopped outside the big red train. "Coach C" said Mama, "this is ours" as she scooped Stan up under her arms they boarded the train. Coach C was jam packed and Mama decided to walk further down the train to find a quieter and less busy seat. Coach F was lovely and quiet and once again Mama got Stanley's granny blanket out of the case and Stan settled down for a snooze.
About thirty minutes into the journey Mama needed to go to the bathroom. Stan of course was coming with her and walked up the train with his fluffy tail held high. On the way back Stan was a bit worried that they wouldn't be able to find their seat – they all looked the same! But Mama seemed to know where she was heading and Stan followed.
Then Stan heard a voice call out from nowhere – "can I touch your dog again?" Stan was woofless as he glanced up and saw the lovely little girl he had seen at the station. "Oh my goodness I can't believe we've met you again!" said Mama and proceeded to talk to the little girl's mum. Stan chuckled and winked at the little girl. He KNEW she was special, she had the Tzu Kingdom fairy magic inside her; how else would she be on the very same carriage that he was on! He was so happy and wagged his tail as the little girl chatted away to him about tzu stuff.
Stan and Mama headed back to their chair and Stan settled in for another snooze. The train pulled into Peterborough and Stan was excited when he saw the little girl heading down towards him, but then quickly realised she was leaving the train. Mama smiled and spoke to the little girl and handed her a signed copy of the Tzu Kingdom book. Stan looked at the book and saw Mama had written "To Jessie" and then another message which he couldn't really read.
Jessie kissed Stanley goodbye and slipped off the train. Stan stood at the window and waved his paw until he could see Jessie no longer. What a lovely little girl thought Stanley as he settled in for what he hoped was going to be a rather long snooze.
The next thing Stan can remember was waking up on his blue cushion – he was home! As he snuggled into snooze mode again he sighed deeply and thought what a wonderful adventure he had been on.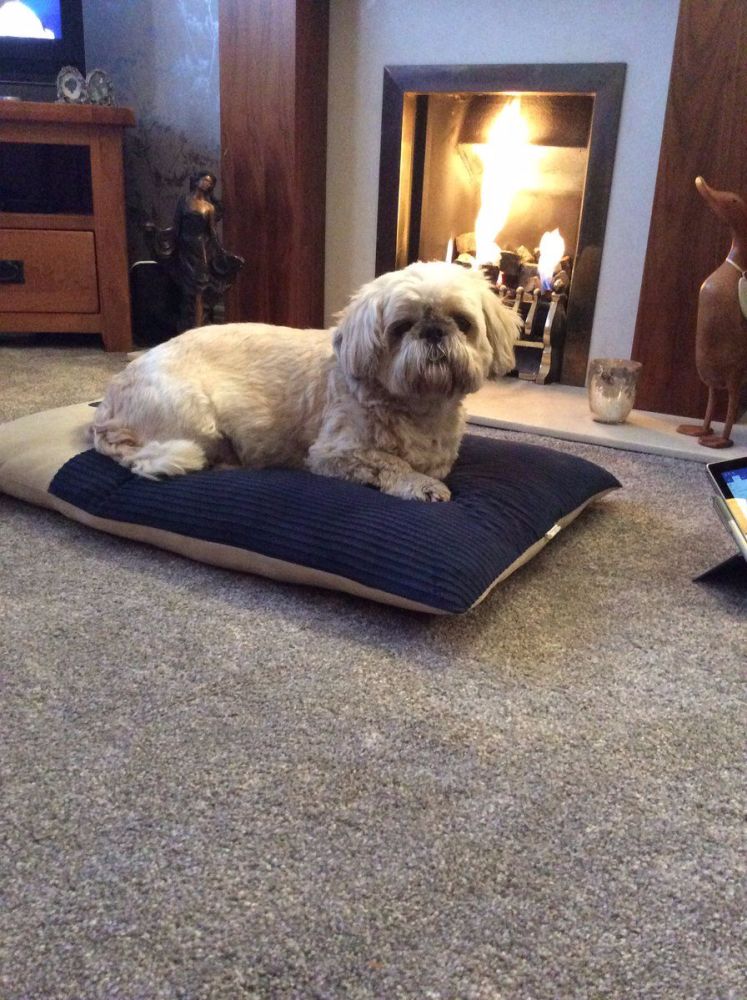 We would love to know if Jessie enjoyed the book and has maybe even read this blog - Please get in touch Jessie!