Tzus on a Train - Part 2
Posted on
There's actually no mention of trains in this blog so we should really call it something different but we are sticking with Tzus on a Train (the trilogy!)
So, we finished off our last blog as Stan, Bailey and Louis were heading into the pub for lunch…read on to find out what happened next.
The Royal Entourage were ushered to a large reserved space at the bottom of the pub. Stan loved it, he just felt right at home. King Bailey and Louis were so pleased to see Stanley and all the boys got into deep conversation about dog stuff.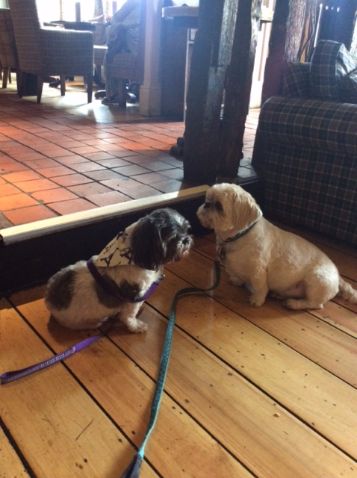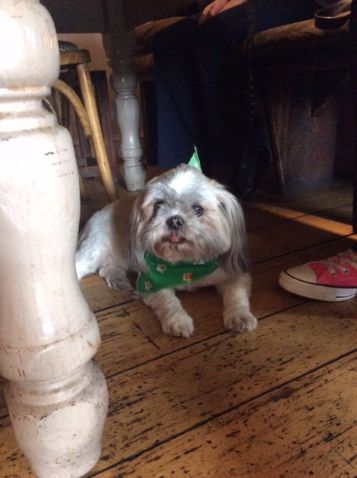 They all sat on the floor and chatted whilst eating complimentary dog snacks that the nice man at the bar had brought over for them.
The humans ordered their food and drinks and Louis decided he would join them at the table. He was never that keen on eating food on floor level and was pleased as punch when Nanny picked him up and tucked a white paper napkin inside his collar to keep his beard clean. Nanny ordered chicken pie and we think it's fair to say Louis got to eat more of this than Nanny did!
After lunch Nanny headed home in the car with Louis whilst Bailey and Stan jumped into the yellow sunbeam car and went for a walk with their respective mums. Endless photographs were taken in the woods – here's one of Bailey looking ever so handsome!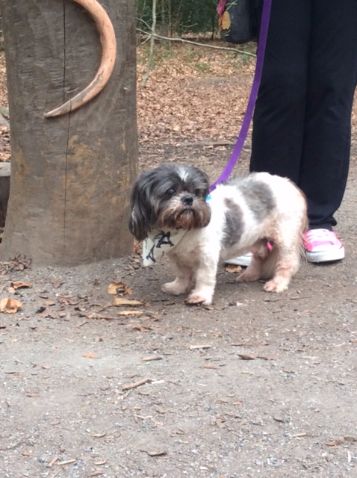 About an hour later everyone was back in Nanny's house and Louis showed Stan all his beds which are in every room of the house! Stan loved it and Nanny did what Nanny's do best – she got food and drinks for everyone and fussed a lot. Copious amounts of blue cheese and popcorn were consumed by the mum's, whilst Bailey, Louis and Stanley all had a little bit of each other's dinner.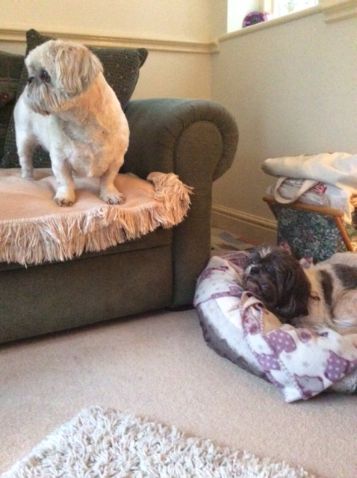 All too soon it was time for bed. Stan loves his sleep and ran upstairs and settled down with Mama for the night. The room was in darkness and Stan closed his eyes thinking what a wonderful day it had been. A few minutes later Stan barked loud and firm. "Shhh" said Mama, "get to sleep". Stan barked loudly and firmly again, jumping down from his bed barking and barking to get out of the room. Mama put the light on and asked what was wrong with Stan. He just kept barking so Mama opened the door and off zoomed Stanley hurtling down the stairs. It was only then that Mama heard King Bailey's mum calling for help! She was stuck on the stairs (as King Bailey's mum has a very poorly foot and is only recently out of plaster). King Bailey, being the elderly gentleman that his is couldn't manage the stairs on his own. They were both stuck half way up the stairs! Stan and Mama ran down, Mama scooped King Bailey into her arms and up the stairs and into his bed. Stan immediately ran through to check that his BFF was ok, which thankfully he was. He kissed King Bailey on the top of his head and said goodnight. Bailey's mum was saved too!
Stan went to bed feeling very proud that he has partaken in such an important and unplanned rescue. He most certainly was as brave as a lion and as he drifted off to sleep he could hear King Bailey's voice reciting the Tzu Kingdom motto 'Be careful. Be brave. Be Tzu'
Stan smiled sweetly to himself and dropped off into a very long, very deep sleep.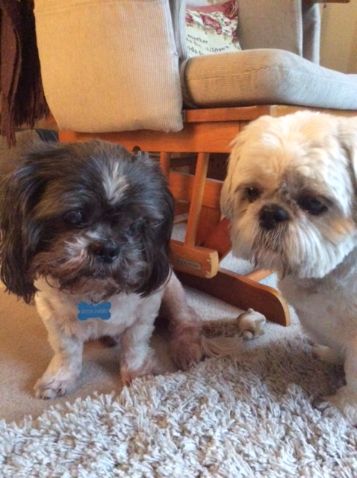 Tune in for the final part of Tzus On a Train at the end of the week!