Tzus on a Train - Part 1
Posted on
Wow it's nearly the end of April and for those in the know April was a very special month in the Tzu Kingdom calendar. For those who don't know why it was so special read on here, and for those that do know and still want to know more read on…
On Tuesday 4th April Stan boarded the 8am Virgin East Coast Edinburgh to London train with his mama in tow. Mama had packed Stanley's suitcase with everything a Tzu needs for a night away – his toys, his granny blanket, his food, his bowl, some poop bags and of course his blue pyjamas. A small space was left in Stan's case for mama's overnight essentials.
That morning, Stanley was woken by a very excited mama, although Stanley didn't truly understand why he had to be up so early (that only happens at Granny's house) thought Stan, but soon him and mama had arrived at the station. Stan looked up to the magnificent Edinburgh Castle which sparkled like gold in the early morning sun, then with a glance to mama he knew something very important was going to happen that day.
Before he knew it, Stan was on a train – Mama put down his granny blanket and Stan hopped onto the blanket where he slept for most of the journey.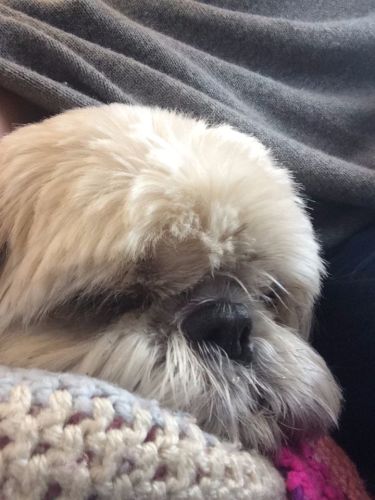 Four and a half hours later it was time to move. Stan was in London! It was so exciting, and so busy! He had never seen so many people in one space before.
Mama grabbed a cup of coffee and Stan found a nice grassy area where he had a bit of a sniff and did what had to be done. The next thing he knew he was heading back into the station where mama scooped him under her arms and said, 'Come on Stan let's go'
Off they headed down not one, not two but three very steep escalators. Going deeper and deeper further underground. Stan chortled happily to himself – he sensed he was on some sort of adventure and he was loving every minute of it. Mama held Stan close and kissed the top of his fluffy head. The thing Stan found very funny was that there were lots of people standing on the escalators opposite him, heading up the way as Stan was going down the way. So many of them looked over at Stan and gave a wee smile or a laugh. One of the men even waved but Mama was convinced it was to her as he was jolly handsome (Mama had confided in Stan later).
The next thing Stan saw was a funny little train heading towards him. 'MIND THE GAP' bellowed out a voice from beyond. Stan looked at Mama – that gap was far too big for his little legs he thought, but once again Mama scooped up Stanley into her arms and onto the train they went. Now this train was different than the big train Stan had first been on. Everyone sat opposite each other, nobody glanced up from their newspapers or smart phones. Stan let out a little whine as if to draw attention to himself. What happened next was a minor miracle. Men put down their newspapers and smiled over at Stan (who by this point was standing proud on Mama's lap). Young people put down their phones and looked over at Stan. One little boy started talking to Stanley and his mum started talking to Mama. It was only later that Stan found out that people who spend much of their time on trains deep underground don't really talk very much, so Stan was glad he had made their daily commute that day different to the day before, and the day after probably.
After a few stops it was time to get off again. Stan ran up some steps with Mama and found himself in another train station and Mama bought another ticket and they got on another train! This time he noticed Mama was talking to someone else – a big burly builder who spoke with an Essex accent. He was very nice and helped Mama lift the suitcase when they arrived at their destination!
Stan and Mama crossed over a bridge, then clambered down more steps, through another turnstile and then suddenly Stan saw a familiar face. It was Bailey's MUM!!!
After lots of kisses and cuddles they all headed into the yellow sunbeam car and Bailey's mum drove out to the countryside. They parked outside the pub and then suddenly, as if by magic, Bailey and Louis appeared! Stan was in Tzu Heaven he thought as they wandered into the pub together, with the smell of steak pie and gravy wafting through the air!
Tune in for the next instalment of Tzus On a Train later this week!