A Right Royal Visit
Posted on
There is an air of excitement in Tzu Kingdom today as we are pleased to announce a Royal Visit will take place on 4th April 2017.
This is a very important date in the Tzu Kingdom diary as this is the day Stanley travels over 500 miles from Edinburgh to Essex to pay a visit to King Bailey of Tzus! Stan's mama has booked the train for her and Stan to travel south to stay overnight with King Bailey and his mum Karen.
Nanny Tzu will also be popping over to see the guests along with Hotel Battenberg Canine Concierge Louis.
In preparation for Stan's first visit to Essex - the land of spray tans and gleaming teeth, he has been adding a special tooth whitening product to his evening meals. Below is a photo of Stan and his good pal Mac showing off their new 'teef'
The group will also be attending a Royal Banquet Dinner, at a secret location to avoid the puparazzi. Dancing will take place after dinner where Bailey and Stan will pop on their dancing shoes and give a special rendition of their magical 'Bring Me Sunshine' routine - a winner at last year's Strictly Tzu Kingdom dance final.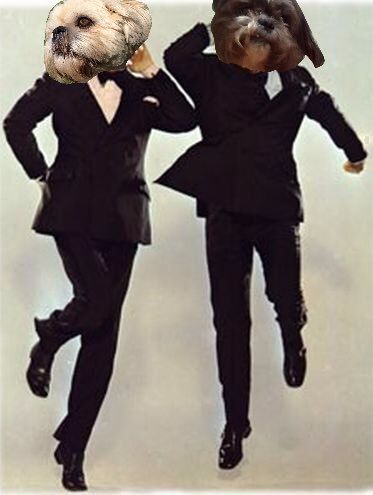 Official photographs will be released of the visit in due course.