Stanley's World Book Day Adventures
Posted on
Last Thursday was World Book Day and Stanley was very excited to be invited to two local Edinburgh schools to meet the pupils and spread the love of Tzu Kingdom.
Now for those of you who know Stanley will know that he is NOT an early riser. Mama forced him out of bed at 8am as he had to be at the first school by 9am.This is Stanley in his favourite place AKA 'The Big Bed'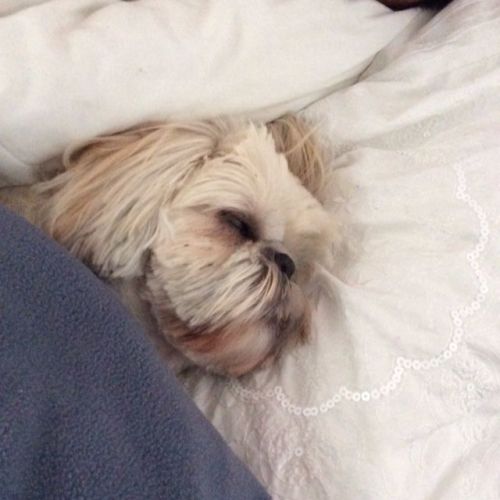 Always one to dress to impress Stan decided his little black and white check tie would be most dandy for the visit. Fighting the Edinburgh traffic made Stan's mama glad that she didn't have to do the 'school run' on daily basis. Driving across Edinburgh Stan saw lots of little people dressed up as famous characters from books. We wonder if next year anyone will dress up as the characters from Tzu Kingdom!
Our first school we visited was Currie Primary School and we had 3 classes of P3 & P4 children in the main hall. Everyone was so excited to meet Stanley and he did a bit of a walk round and shook paws with lots of the children before he settled down at the front of the hall whilst his mama read out a chapter from Tzu Kingdom. Then it was time for a Q&A session - almost all the questions were for Stanley! How old was Stanley? What did he like to eat? What is the naughtiest thing he has ever done? Does Stanley really speak? (of course he does but only when there are no grown ups in the room!).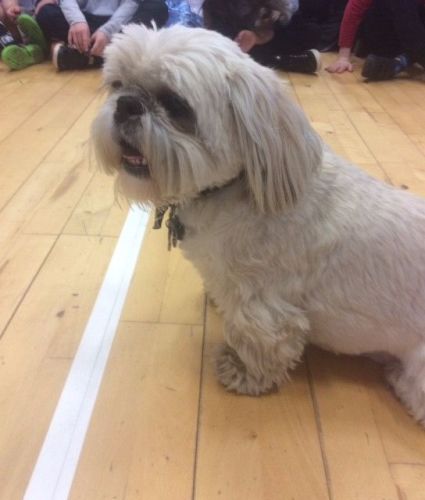 Next stop was the P5 class and again everyone wanted to meet Stanley! It was such fun and lots of good questions for both Stan and his mama. At 10am the school bell rang and it was break time. Stanley went out for some fresh air and a few snacks. All the children in the playground were waving at him and shouting his name. Stanley did feel really quite special! After break we went to visit the P2 class - they were all dressed up in some amazing outfits. There was even one little girl who was a wee bit scared of dogs but after she shook paws and had a little chat with Stanley they were 'besties'! She even escorted Stanley to the next class and confidently strode down the corridor holding Stanley's lead. We were all very proud. The P2 class asked some of the hardest questions imaginable! They all wanted to visit Tzu Kingdom but mama explained that no humans are allowed in...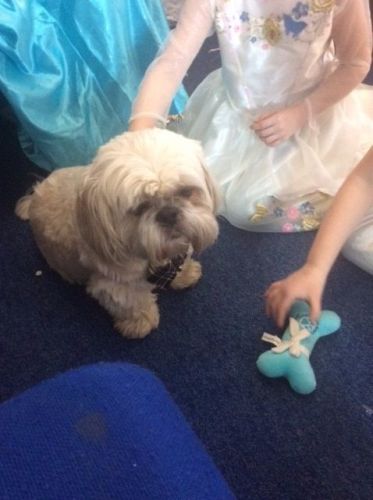 Our last stop of the morning was with the P7 class. Again Stan's mama read out some of the book and Stanley was doing high fives with some of the boys. No one wanted Stanley to leave and the headteacher thanked us so much for visiting and told us that everyone had loved having us in the school.
Next stop, after lunch and a nice walk along a river, was Campie Primary School. Stanley was overjoyed when he wandered into the library to discover an array of rainbow coloured bean bags! Just like the ones he sits on in Tzu Kingdom.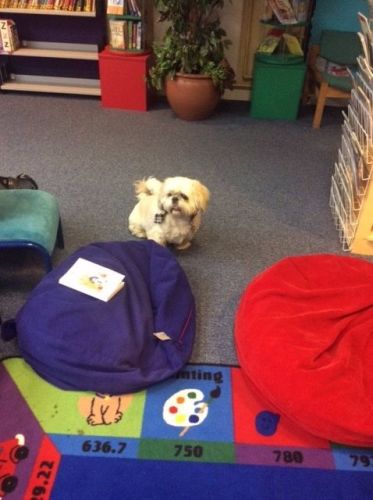 After Stan's mama read another couple of chapters there were more questions - How did King Bailey become King?,Who does Stanley rescue? Where was Stanley born?. There was even a little boy in the class called Stanley, and the funny thing was he has a dog called Maisie (for those of you who have read the book this will mean a lot to you). By mid afternoon Stanley was so tired and rolled over and fell asleep, snoring so loudly his mama had to almost shout to be heard.
As Stanley was saying his goodbyes one of the teachers came up and gave us this lovely thank you card which Stanley now has pinned to the fridge at home. What a wonderful, if somewhat exhausting day!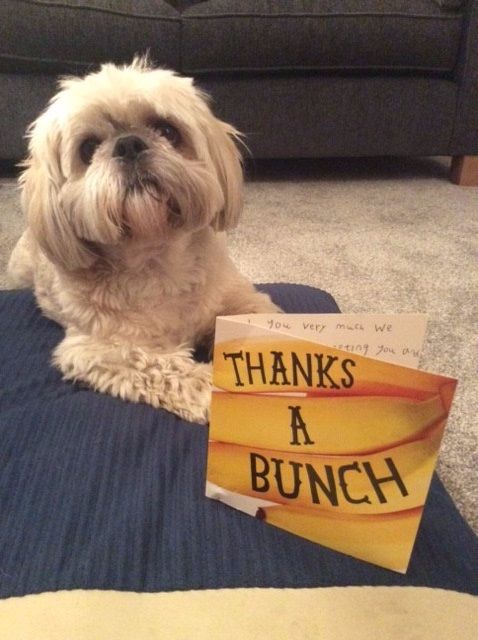 We would like to say a big thank you to the headteachers, teachers, staff and all the children who made our World Book Day 2017 so much fun.
If anyone would like a visit to their local school both Karen and Gill would be delighted to attend with either Bailey or Stanley where possible. Please do get in touch HERE