The Dog That Came for Easter
The story of Bailey's real life rescue, by Karen Chilvers
A Tuesday afternoon in March 2013, two days before Easter and I was supposed to be working but I was unwell. I had been asleep for a couple of hours when I awoke and dragged myself back to my laptop.
I checked Facebook, as you do, and the first thing I saw was the picture here. An abandoned shih tzu called "Shrimp". His photo had been posted up by Hornchurch Animal Rescue, just over the border from me in East London. He was on death row, due to be put to sleep that day but for them. The lovely dog warden had asked HAR to take him to try and find a home. His prognosis wasn't good but they just didn't think this little dog deserved to die alone and, in truth, they were looking for somewhere for him to spend his final few days.
I was powerless to resist.
After a lot of frantic phone calls, at 10pm my mum and I were driving in to London to collect him from the dog warden's house, relieved he was safe and prepared to just look after him until he faded away.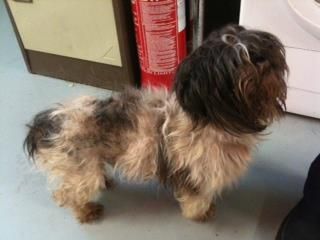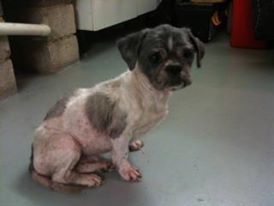 When we arrived, it wasn't a pretty sight! He was now shaved from head to tail and he stank!
But, far from being at death's door, he was full of life and enthusiastically playing with a squeaky toy. I saw hope.
He had been found on the streets, wandering, and it was clear he had some health issues from the lumps on his body and his weight. His coat was matted and it had had to go. But, the warden thought he deserved a chance and I was happy to look after him for a week or two.
"Just make him comfortable, but know that he might not make it," I was warned. On my watch? Of course he was going to make it.
But I couldn't keep him. I already had two cats, Dillon and Daisy, who had lived here for six years and they hid in the airing cupboard from this smelly creature that invaded their space. I couldn't really blame them, but it was only for a week or so.
I should probably point out that by now, he had a new name. Bailey. I mean, I wasn't going to keep him but I didn't like the name Shrimp and I wanted something appropriate. If you have seen the film "It's A Wonderful Life" you may recall the bit when George Bailey leans over the bridge saying, "I want to live again". Well, this fella did too so it was either George or Bailey.
You know, just for the month or so I had him.
I fed him on puppy food as he was so poorly. I bathed him every day and soothed his sore skin. I massaged him all over. I let him sleep as much as he wanted so his body could repair. I took him for tiny walks, five minutes at the most, and carried him when he could walk no more. We went to the vet two days later and he was so lethargic I pulled over twice to check he was still breathing. We met his saviour Donna at the vet's and, immediately, he was a hit with everyone but, still, despite his wagging tail he was far from out of the woods.
Things got brighter every day and he began to meet people. He started to bond with my mum's six year old shih tzu Louis and my nephew Freddie, also six at the time. Freddie told me I had to keep him but, well, I couldn't. Could I?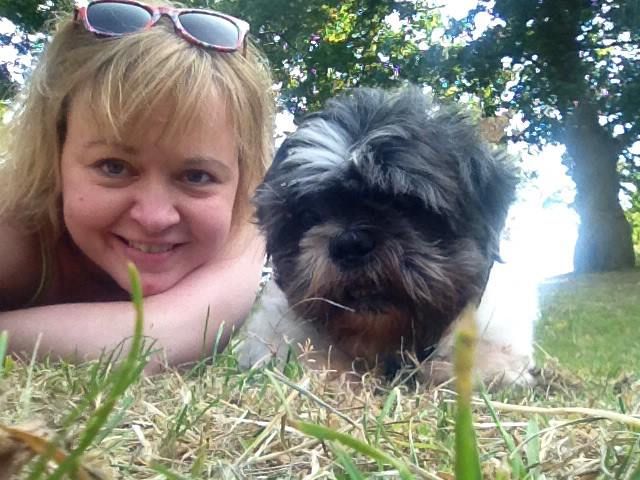 By the end of April, Bailey was a lot better and thoughts turned to finding him a home. But it had to be somewhere I could still see him. Not that I was making it difficult or anything.
Well, I found somewhere. He had spent some time with friends - a retired couple that had a bichon frise called Daisy. They were happy to have him and he had spent a couple of "try out" days and a night with them. He would have been happy there but then, something dreadful was discovered.
Bailey was diagnosed with Cushing's Disease and now things looked bleak. His life expectancy was now no more than a year. The dear friends that were going to adopt him just couldn't take him, having recently lost a dog of theirs after having her for just two months to the same disease. They couldn't go through it all again so soon and they made the agonising decision not to adopt him. They were heartbroken.
Things were also going to change for me. My cushy home-based job was coming to an end and I was going to need a real, full-time job soon. But we came to an agreement. The lovely couple would be happy to look after him a couple of days a week and my mum the other three. I slunk down to him on the floor and told him I was going to be his permanent mum. He was going to spend his final months with me and I was going to make it proper special.
He only had a year at most, and he was going to be my dog and I was going to love him every second of every day.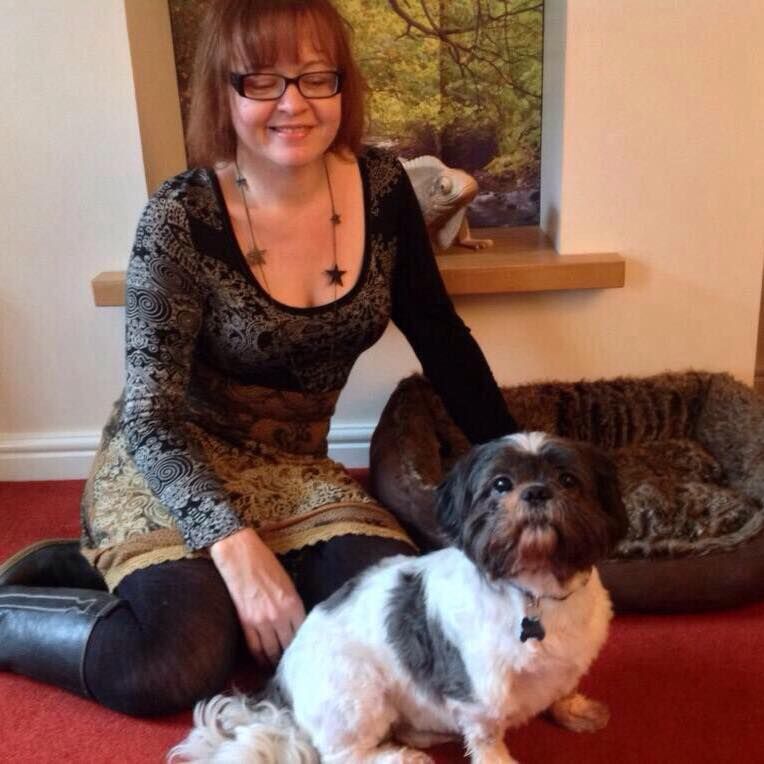 Not long after his official adoption day of 2 June 2013, Bailey joined twitter. He was just going to give some worldly advice every day and it was just a bit of fun but then, we met Stanley, Paddy, Maisie & Coffee. The rest of that story lies in the books but, without the little dog that came for Easter, Tzu Kingdom would never have been.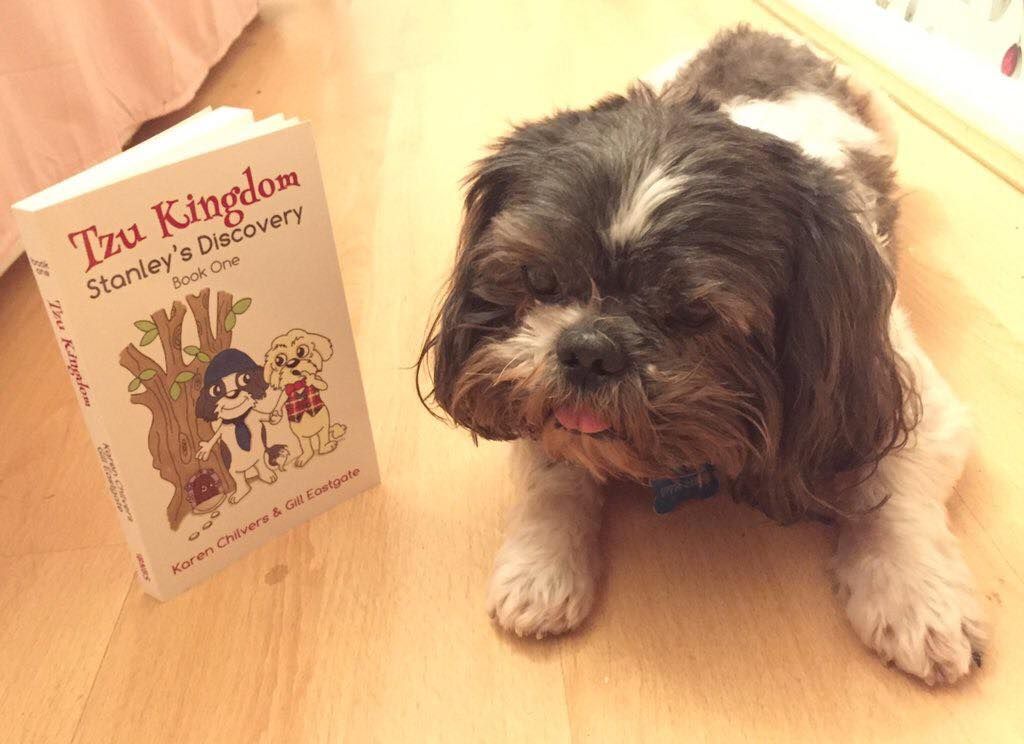 Amazingly, despite his Cushing's Disease and other health issues arising from his prior long term neglect, we are now in to our seventh year together. I too have my health problems and I now struggle to remember who saved who!
If you have read Book 3, you may see the similarities between how Coffee and I looked after Bailey when he was rescued. That is no coincidence - it is his story and it will live on, with all the beautiful furs in the books.
That is King Bailey's contribution to the world and he hopes, when you read the stories, that you strive to make the world a better place too.